The WiRan measurement laboratory (ELAB Gdynia) allows for accurate and reliable measurements of high and low frequency electronics. High-quality measuring equipment gives the possibility to observe and archive the signal waveforms. Advanced infrastructure consisting of, among others, Faraday cage and climatic chamber allows to simulate specific measurement environments. The many years of experience of WiRan engineers guarantee the credibility and reliability of the measurements.
Our hardware laboratories allow us to provide the highest quality services to our customers. It is thanks to them that we are able to carry out EMC tests at a level almost 100% overlapping with the state tests (EMC precertification). It is thanks to our professional equipment that we create products that meet the expectations of even the most demanding customers, both in terms of functionality and quality.
In cooperation with the Pomeranian Science and Technology Park (PPNT Gdynia, Poland), we offer our professionally equipped laboratories for rent – for all those who need support in their research work in the form of high-end equipment. We encourage you to explore the detailed offer and our testing equipment on the ELAB website.
A-CLASS EQUIPMENT – ELAB GDYNIA
The specialised equipment within our laboratories enables us to carry out even the most advanced tests and create high-quality IoT products, including our own SEZO line. Below we present you the most important equipment we offer in our laboratory.
EMC stands for electromagnetic compatibility. WiRan Poland offers EMC testing as well as RFI (radio frequency interference) services in Tricity, Poland. WiRan ist the operator of the ELAB in PPNT in Gdynia, Poland. In measurement laboratories we can carry out accurate and comprehensive measurements of high and low frequency electronics.
Our lab infrastructure consists of one of the biggest Faraday cages in the area, a climatic chamber, just to name a few. For detailed information related to our laboratory infrastructure, EMC Testing services, and pricing,  please visit CTA LINK. 
Our Team at WiRan (Wireless Range Systems) has 20 years of experience in the field of Radio Frequency Design and Telemetry. 
A climatic chamber, also called an environmental chamber, is an enclosure used to test how the changes in the environmental conditions can affect various materials, components or electronic devices. This comes in handy in the development of electronic HW that needs to stand the test of time and harsh environmental conditions.
The climatic chamber at ELAB Gdynia allows an artificial reproduction of the conditions to which materials or products can be subjected. By exposing the objects placed in the chamber to extreme conditions, we can make sure that the end user will not be exposed to any dangers, e.g. due to overheating of the device.
The climatic chamber in our laboratories offers 1 cubic meter of space, and the temperature within can range from -40 to 180° C, while the humidity range (RH) from 10 to 98%. Fixing rate is 6K/min for heating and 6.5K/min for cooling.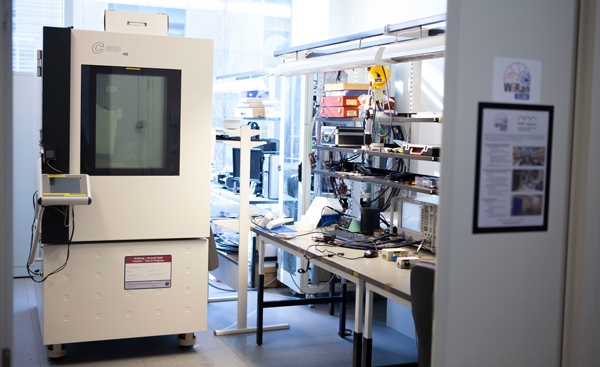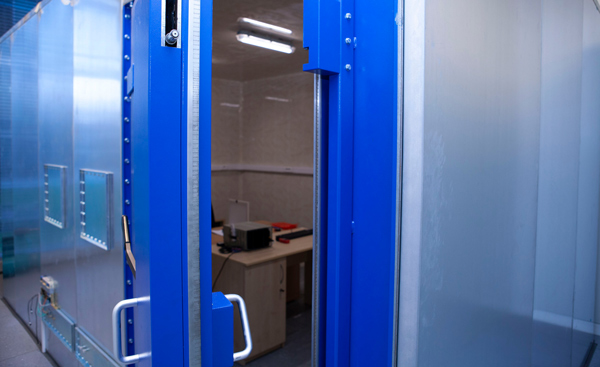 We are lucky to have a spacious Faraday cage at WiRan Poland. A Faraday Cage protects against external electromagnetic fields. Made of conductive material, it does not allow electromagnetic waves to pass through both from outside and outside. Waves and electromagnetic currents are trapped and circulate through a special shield. 
Faraday cages are used primarily to protect electrical equipment against disturbing external electric fields, e.g. in order to measure antennas or test RF parameters.
Our Faraday cage (3x3x4,5 m) offers access to power supply, as well as a LAN connection inside the cage. For more technical specifications regarding our Faraday Cage at ELAB Gdynia please use our contact form to book a free consultation call.
VECTOR NETWORK ANALYSER | ELAB GDYNIA
✔ Our Keysight N5224A-400 Vector network analyzer is a 4-port version with flexible measurement Rosenberger cables (VA41-TP-2.92-60).
✔ It offers a frequency band of  10 MHz – 43.5 GHz, dynamics of 127dB.
✔ The maximum input power of is 13 dBm. 
✔ 2 port electronic calibrator N4693A-M0F is included.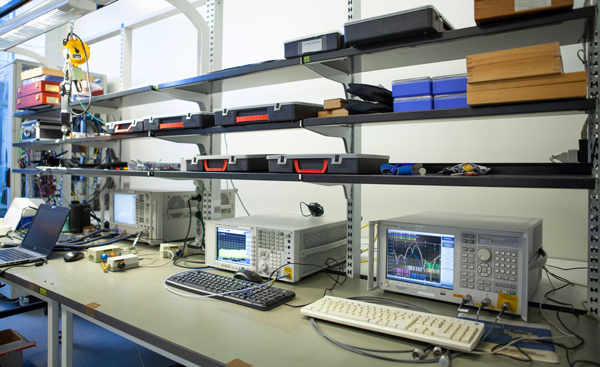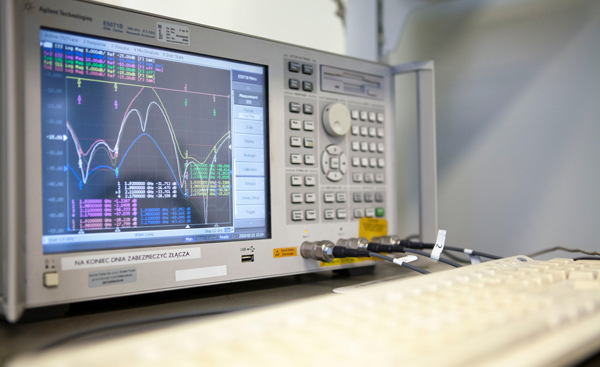 SPECTRUM ANALYSER | ELAB GDYNIA
✔ Keysight N9030A-543 Spectrum analyzer extended with P43, B1X, MPB, EXM options
✔ Frequency range 3 Hz – 43 GHz
✔ Max analyze band160 MHz, DANL@1GHz = -171 dBm
Do you need to run tests on your electronic device or prototype? 
Are you looking for renting out lab infrastructure in Tricity? 
WiRan operates and rents out laboratories in Tricity, Poland. Our lab infrastructure and measurement equipment allows you to run for accurate and comprehensive measurement tests in the field of high frequency and low frequency electronics. The modern, high-end measuring equipment allows for the observation and archiving of signals, and the advanced lab infrastructure at WiRan Gdynia – consisting of a Faraday cage and climatic chamber –  enables the creation of a specific measurement environment. Our experienced RF engineers and HW Designers at WiRan will guarantee reliability and credibility of the measurements.
WiRan ELAB is located within the premises of PPNT Gdynia (Pomorski Park Naukowo-Technologiczny, Gdynia). For a details pricing list as well as list of available equipment please visit CTA LINK
No company operates in a vacuum. It is therefore not surprising that we at WiRan have been able to forge many collaborations with qualified suppliers, local service providers, agencies and international associations over the years, both nationally, as well as internationally. Below you will find a small overview of the companies, with which we currently work together or with which we have had the pleasure of working in the past. At this point we would like to take the opportunity to thank all those involved for the first-class cooperation over the past years and thank you for the trust you have placed in us. Our clients successes, are our successes. For a detailed list of references, please use our contact form => LINK . We are glad to provide you with a detailed list of references as well as our company presentation. 
We look forward to your project inquiries and R&D initiatives. Get in touch with WiRan Poland now via => LINK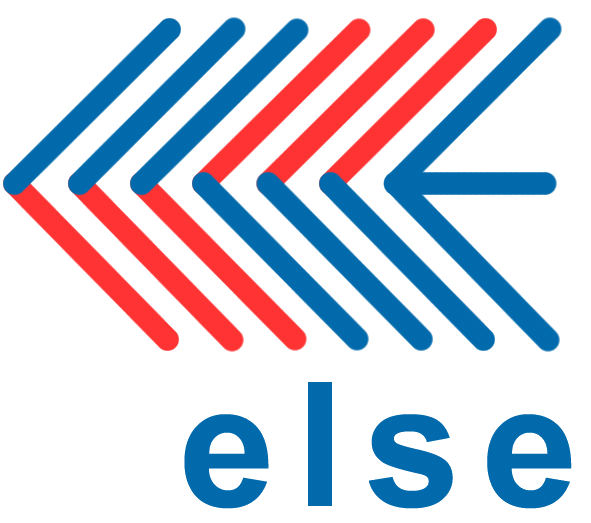 KRS 0000144659
REGON 192813079
NIP PL9581424107

KRS 0000144659
REGON 192813079
NIP PL9581424107